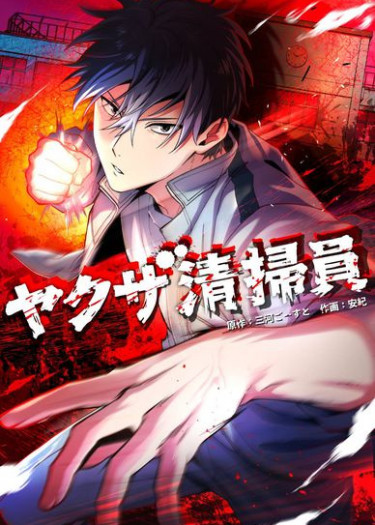 Rating
Yakuza Cleaner
Average

5

/

5
out of
1
Rank
N/A, it has 290 monthly views
Alternative
Yakuza Seisou-in Yakuza Cleaner Yakuza Janitor ヤクザ清掃員
Summary
"I'm Banjo Taiga, the cleaner assigned today."
Banjo Taiga is a yakuza child.
An expert in killing who has been trained in the underworld for as long as he can remember.
However, the fact that the yakuza were an overwhelming presence in the underworld is a story of the past.
Yokudo has now become a relic left behind by the times, and the Yamada-gumi, which Taiga belonged to, was dissolved and reborn as a Katagi company.
That new job is a cleaner.
The genius of killing turns into a janitor. His workplace is from the underworld to school.
Now that he has become a key, not only killing but also violence and fights are prohibited.
However, what awaits Taiga is a delinquent high school with bullying, violence, smoking, drinking, and all sorts of problems, a situation that even teachers and adults can't handle.
"I've come to clean up the dirty school"
Many brilliant tricks! Exhilarating development!
The ex-yakuza's "dirt" cleaning, which makes full use of the technology to survive in the underworld, is about to begin!
More Info About Series:
You're reading the manga called 'Yakuza Cleaner' on NeatMangas.com.
LATEST MANGA RELEASES